It's that time of the year when the earth springs into life again… but this year there is expected to be a little more activity.  A dozen states from NY to IL and south to GA will see billions of cicadas emerge this month or next after spending 17 years underground.  They will mate, lay eggs and die and the nymphs will hatch and burrow underground to repeat the cycle in 2038.  Unlike mosquitoes, cicadas are pretty much harmless but their buzzing mating calls are as loud as a lawnmower or a motorcycle!  Regardless of the increased traffic, the main culprit to watch out for is still the mosquito.  After a relatively mild winter, there are expected to be more mosquitoes this summer and an increase in West Nile virus cases this year.  Which is why it makes sense to protect you and your kids with a mosquito net tent – a totally enclosed bug tent with a floor.  The open-air platform tents at summer camp are just that – open to all kinds of bugs and mosquito nets draped over PVC frames do little to thwart the pesky skeeters which still manage to sneak in through the gaps between the floorboards.
Seen and read: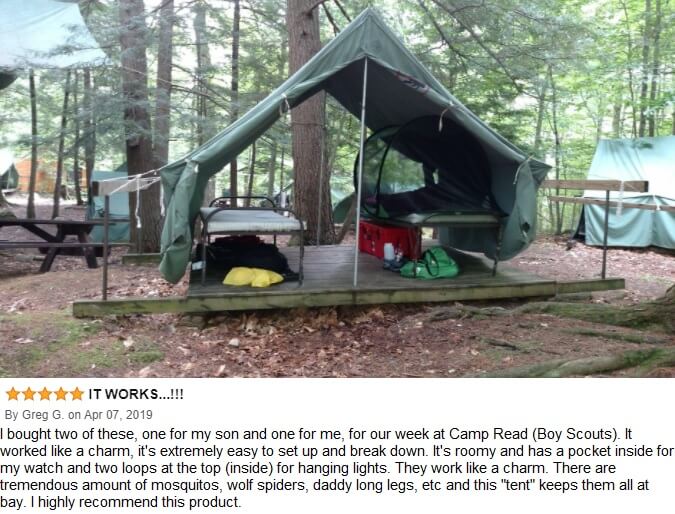 The canvas wall tents at Curtis Read Scout Reservation are wide enough so there is ample space between the cots.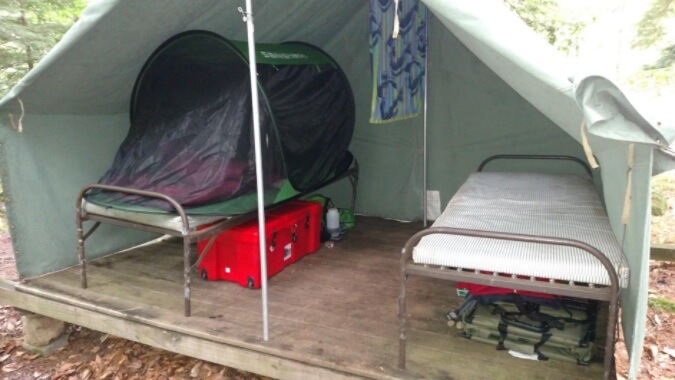 But if the wall tents are narrow like at Camp Sequassen or Resica Falls Scout Reservation, simply turn the cots sideways so you'll optimize the space by aligning the slope of the tent with that of the SansBug screen tent.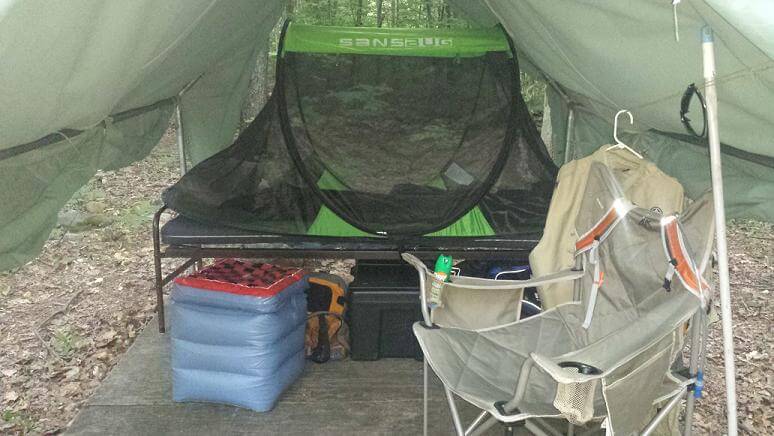 Since the SansBug mosquito net tent is freestanding, it beats trying to figure out how to suspend a mosquito net inside a wall tent.  There usually aren't any grommets or tie-offs inside canvas wall tents.  Therefore most folks lash PVC pipes to the cot and drape mosquito netting over it.  However, it is almost impossible to make sure there are no gaps between the netting and the floor every time you get in and out of bed… especially if it is dark.  Also, since most platform tents have gaps between the planks on the floor to prevent water pooling when it rains, there will always be space for mosquitoes to come in.  One mosquito can keep you up and make your night miserable.  The SansBug screen tent has a sewn-in floor so it is totally enclosed… you'll sleep like a baby and you'll be alert and focused to learn new skills the next day!
And, hey, if the weather is nice… just pop up a village of SansBug bug tents like this troop did at Kerr Scout Ranch.