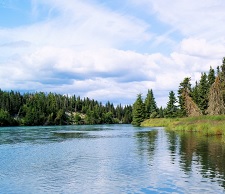 I took your 1 person screen tent with the rainfly on a 7 day canoe trip in Boundary Waters, Minnesota. I had a very positive experience with it altogether, obviously very easy to set up, rainfly only took a few additional minutes to get staked down and provided enough of a footprint overhang to keep gear under and dry. The ease of setup and takedown saved me probably an hour a day.
Jake B.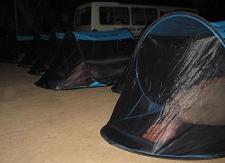 We bought 30 mosquito tents for our trip to West Africa last year. They were perfect for us because we were looking for light and durable tents with good mosquito netting that wouldn't cost us a small fortune. I would definitely recommend these tents to anyone!
Rev. Daniel Kim, ODPC in Herndon, VA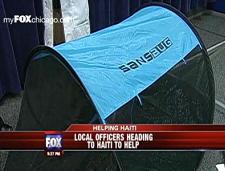 Shown in a Fox Chicago News special report on Haiti by Dr. Mona Khanna, a triple board-certified physician and Emmy award-winning medical journalist who serves as the Medical Contributor to Fox Chicago News.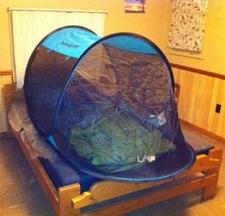 At "Bug Camp", a university research property, for orientation:
The bug tent lay perfectly on the bed in my cabin. The cabins are known to be very rustic and often have bugs at night and sometimes mice.
Adam Ancira, Recruiting and Admissions Coordinator, University of Michigan – School of Natural Resources & Environment
The mosquito net tents were absolutely brilliant, they helped us so much – none of us got any mosquito bites, no malaria (thank God), no scorpions, snakes, spiders, or lizards in our tents!
Students from Copenhagen International School, Denmark, volunteering on the Burma – Thailand border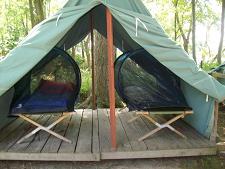 The SansBug screen tent fit very well on the cots inside the canvas wall tents and did an excellent job keeping the boys bug-free!
Boy scouts at Camp Rodney, MD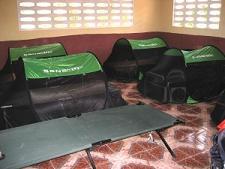 SansBug II in Haiti:
At our location we only had one ceiling cross beam in one room, so it would have taken a small engineering feat to make ceiling nets work. The SansBug mosquito net tents were definitely the right way to go for us!
David from Chapel Hill, NC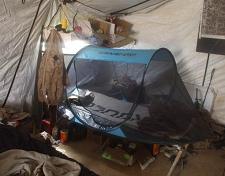 Of ALL the bed nets I looked at, yours was the best, hands down. This one stands up by itself, fits on a cot and is a tight weave! He was exceptionally pleased with the tent. Everyone was jealous of how well it performed. He told me the other guys were envious as he sat, bug-free, in his tent. He loved it!
Amy after sending the SansBug bed net to her son in Afghanistan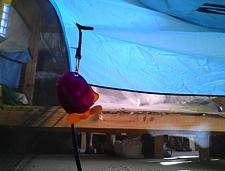 Stephanie (a Hands On Disaster Response volunteer in Haiti) had also attached a "ceiling fan" to make her bug hut even more comfortable in the heat. Her take on the tent? "I quite enjoyed it and will use it again on my next trip down… hopefully in December!"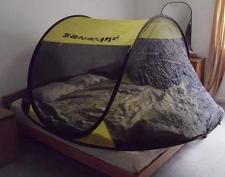 SansBug bedbug tent in the bedroom:
Still no bedbug bites. All the old ones are fading, so I should be able to easily tell if I get a new one. It's fantastic!
Mark, graduate student at UPenn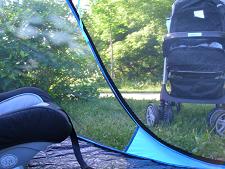 The SansBug screen tent is better than a playpen because it is fully covered to keep ALL bugs away from my sweet girl.
Dee, South Carolina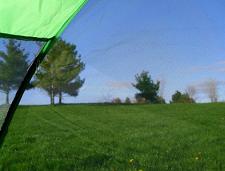 SansBug as a meditation tent: What is better than reconnecting with nature than actually physically experiencing it bug-free? I take time to meditate inside it.
Mikki, Vermont