Who remembers the Great Winter of 2013-14?  Now that the weather has warmed up, the ice storms and polar vertexes have become a hazy memory.  Wouldn't it be nice to have this kind of weather all year round?  But a tropical climate will come with it's own fauna like the bothrops atrox, a venomous pit viper found in South America.  Here it is, slithering towards a tent.  Unfortunately, that particular te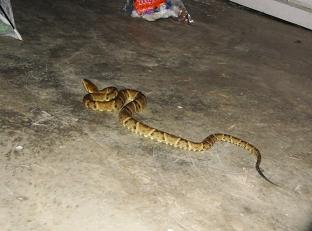 nt doesn't have a floor, so it's no surprise that the occupant didn't wait around too long!  And it seems to be coming from the SansBug where the sewn-in floor thwarted entry into the te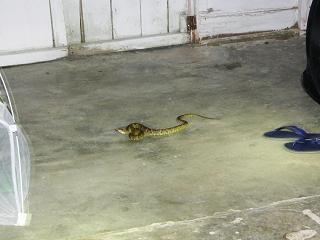 nt!
Thanks so much to Dr. Ernesto Ortiz of Duke University for sending these pics.  Dr. Ortiz is studying infectious diseases in the Peruvian Amazon.  Here's part of an email from him:
I just bought another SansBug tent,  they are amazing!  Very useful for the field.  I take it to the Peruvian rainforest for our research fieldwork trips (very hot, lots of bugs and humid) and it even protected me from one of the most poisonous snakes of the Amazon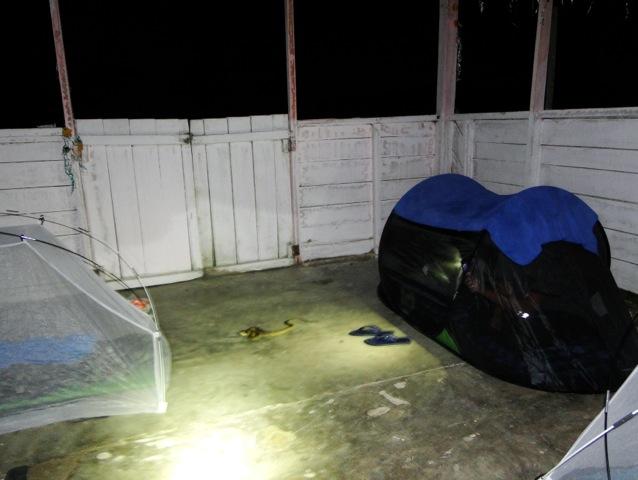 (look at the picture attached).
Thanks to its floor, it prevented the snake to get into the tent something that the other bug net (the white) did not have.  As for the guy that was in the floor-less tent he flew out of it when I woke him up screaming out loud that a snake was next to him and could easily sneak into his floor-less tent.
It was a pretty scary moment to wake up and see a snake right next to my tent.  Anyway, part of the adventures of working in the jungle. 
Thanks,
My best,
Ernesto
Ernesto J. Ortiz, MD, MPH
Associate in Research
Duke Global Health Institute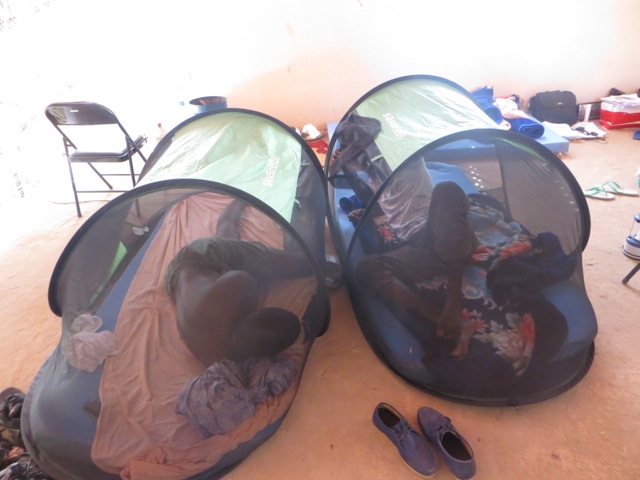 Researchers from Stanford University recently took the SansBug mosquito net tents to Senegal for a project on early language acquisition by children living in rural villages.  Here's a picture of two of their fieldwork team members.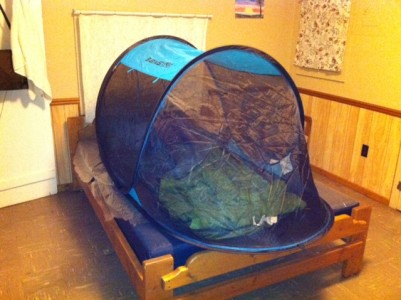 Dear SansBug,
I ordered  a SansBug tent to take with me for an annual camping trip to northern Michigan.  I am the Recruiting Coordinator at the University of Michigan School of Natural Resources and Environment and each year we take our new students to a university research property for orientation.   The property we go to is affectionately called "Bug Camp."  Needless to say, my new SansBug tent was perfect for my trip this year!  Of course my tent was very useful for outdoor areas, but what I loved even more was that it laid perfectly on the bed in my cabin.   The cabins are known to be very rustic and often have bugs at night and sometimes mice.  Using my new tent this year, helped me sleep better than I ever have there!   We also raffled a tent for one of our students to win, which was a big hit with a crowd that hikes, camps, and conducts outdoor environmental research!  Thanks again for a great product!
Adam Ancira
Recruiting and Admissions Coordinator
University of Michigan- School of Natural Resources and Environment