If you have a 6-person-volunteer-team heading to Haiti, what kind of screen tent do you get them?  A $200-professional-backpacker tent for each team member?  And if the place you're going to be staying at has space limitations, are you looking forward to erecting a tent every single night and taking it down the next morning?
With the SansBug screen tent, you slide off an elastic strap and it explodes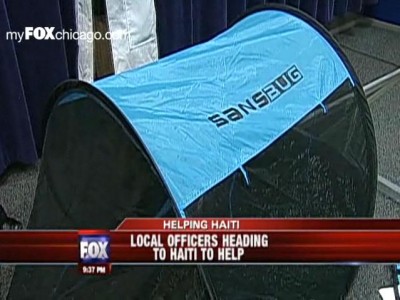 into shape.  Blink and you'll miss it pop-up!  Now you can plop into your sleeping bag without the hassle of joining poles while getting bitten by mosquitoes.  Rainy season in Haiti is May-July and you don't want to take a chance with malaria.  One bite is all it can take.  Folding up your tent should take you less than 10 seconds even if you're still half asleep!  The SansBug is a breeze to use, pun intended.
But… but don't you get what you pay for?  Dispel the thought of a poor-quality, heavy and tiny tent.  We'll let our customers rave about the quality but let's talk about the weight and dimensions for the 1-person.  Weight?  2.5 lbs.  Yes, that's two and a half pounds… about what a 32 oz. drink weighs!   Dimensions?  It offers six feet in length and more than 3 feet in width… that's even more than what a twin mattress offers!  With a height of 3 feet, a six-foot tall person can comfortably sit in it.
The 6 tents could easily fit into two of our 28" x 28" x 3" cartons (62 linear inches and 18lbs total weight… well within the free allowance), which if shrink-wrapped should be flight-worthy.  If you're traveling alone or if each group member is carrying his or her own net, the 1-person tent fits comfortably in the aircraft overhead bin.   So if you're heading to Haiti or any other malaria-endemic area, the SansBug screen tent is your instant refuge.