The SansBug bed net has been a God send to us regarding the safety of our son with special needs. Our son has Down Syndrome and autism, and as such he has no awareness of danger and has many sensory seeking behaviors.
We were at a loss as to what to use to keep him safe at night once he outgrew his crib. We did a lot of research on various special needs sights regarding special needs beds, since our insurance wouldn't cover them and they were thousands of dollars, we had to get creative.
I had read a blog about a mom who used a SansBug bed net to keep her son safe. I researched the SansBug and it seemed like it might work, plus it was VERY affordable!
We ordered our SansBug and moved our son into his first big boy bed! It worked wonderfully! It lays on top of his mattress, has room for him and ALL of his friends and many blankets that he likes in his bed. We did try putting a foam mattress inside the tent, he did not like it and bunched it up and put it to one side. He prefers laying on the bottom of the tent for sensory reasons, so each night we put down a comforter for him to lay on, but he pushes it to the side within minutes, lol.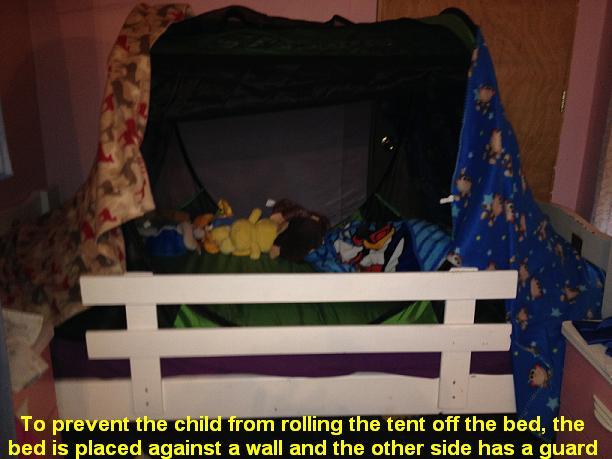 We also modified the ends by putting fabric on them so it decreases his sensory input so he can sleep, this has worked great. We have found out that the strings that hold up that flap are too much temptation for him; he has pulled them so hard he snapped the fiberglass poles that hold up the tent! But, I'm pleased to say that they popped outside the tent and he was never at risk of injury, another design plus.
We will be getting another SansBug tent with a poly floor for our little guy, we will cover the ends again, but this time we will cut out the straps so he isn't tempted to pull on them again! Also, he did tear the netting by digging at it (sensory), but it sewed up beautifully and held without tearing.
I can't say enough about the SansBug tent; it has given this mom and dad peace of mind and the ability to sleep at night without fear for our little guy.
Thank you SansBug!
June B., NY
Disclaimer: The views expressed are those of the customer. HMT does not sell the SansBug as a medical device. Please consult with your physician or other health care provider before using the SansBug bed net for your child with special needs.